'Advertising Week Briefings: 5 things'
Advertising Week APAC teams up with marketer Lucio Ribeiro for new Melbourne event series
MEDIA RELEASE: Tuesday 18 February 2020: Marketing consultant and lecturer Lucio Ribeiro has teamed up with Advertising Week APAC to launch a new series of thought leadership events in Melbourne.
'Advertising Week Briefings: 5 things' is a new monthly educational program hosted at General Assembly Melbourne that sees experts from various industries respond to five questions, giving a unique insight into the inner-workings of their industries.
Curated and hosted by Lucio Ribeiro, Marketing Consultant and Lecturer of Marketing & Artificial Intelligence at RMIT and Deakin, the series is presented in association with Advertising Week APAC. The six sessions programmed for 2020 will cover a range of verticals from retail, automotive, FMCG, technology, sports and more.
Kicking off the series, coinciding with International Women's Day, is 'Advertising Week Briefings: 5 things with female agency leaders'. On Wednesday, March 4 at General Assembly Melbourne, a stellar lineup featuring three of the most influential women leading the industry will discuss the inner-workings of advertising agencies from the latest in-demand skills to ways in which you can make an impact and the market outlook for 2020.
Kimberlee Wells, CEO TBWA\Melbourne & Adelaide
Georgina Pownall, Former Managing Director at McCann Melbourne
Gayle While, CEO Clemenger BBDO Melbourne
Lucio Ribeiro, founder of the new series, said in a statement: "I'm incredibly excited to launch the new Advertising Week Briefings: 5 things series, connecting the most prestigious talent the Melbourne market has to offer with an industry that is demanding more education. 5 things will provide an exclusive view into these categories so that attendees can walk away feeling empowered with knowledge that will open new doors.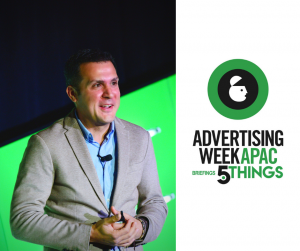 "If you're a future leader looking to understand category dynamics, brand manager, tech, marketing and agency professional or are just generally keen to discover the ins-and-outs of these industries, you can't miss the series – it's competitive advantage in the making," he added.
Clive Prosser, Director at Advertising Week APAC, commented: "As the leading advertising conference in APAC, we're always eager to explore any new avenues that can further provide education for our market. This new series offers exclusive access to the best in the business, much in line with Advertising Week APAC, which this year will take place again at Luna Park on August 24-27. We're proud to be supporting these events and providing a platform that will help our industry discover new insights and opportunities."
The first event is:
'Advertising Week Briefings: 5 things with female agency leaders'
When: Wednesday 4 March 2020 Where: General Assembly Melbourne